System Workbench for STM32 v2.2.0 release
A new version has been released and is available through Eclipse update system ("Help > Check for Updates") and through All-in-One installer.
The release v2.2.0 adds support for:

New STM32Cube package versions:
STM32Cube L0 V1.10.0
STM32Cube L1 V1.8.0
STM32Cube L4 V1.9.0
STM32Cube F0 V1.9.0
STM32Cube F7 V1.8.0
STM32Cube H7 V1.1.0

New boards of the STM32L4 series:
NUCLEO-L4R5ZI
STM32L4R9I-DISCO
STM32L4R9I-EVAL

New part numbers of the STM32F3 series:
STM32F334C8Yx, STM32F334K4Ux, STM32F334K6Ux, STM32F334K8Ux, STM32F303K6Ux, STM32F303K8Ux
New part numbers of the STM32F4 series:
STM32F401CCFx
New part numbers of the STM32L0 series:
STM32L041G6UxS, STM32L052T8Fx
New part numbers of the STM32L4 series:
STM32L4R5AGIx, STM32L4R5AIIx, STM32L4R5QGIx, STM32L4R5QIIx, STM32L4R5VGTx, STM32L4R5VITx, STM32L4R5ZGTx, STM32L4R5ZITx, STM32L4R5ZGYx, STM32L4R5ZIYx, STM32L4S5AIIx, STM32L4S5QIIx, STM32L4S5VITx, STM32L4S5ZITx, STM32L4S5ZIYx, STM32L4R7AIIx, STM32L4R7VITx, STM32L4R7ZITx, STM32L4S7AIIx, STM32L4S7VITx, STM32L4S7ZITx, STM32L4R9AGIx, STM32L4R9AIIx, STM32L4R9VGTx, STM32L4R9VITx, STM32L4R9ZGJx, STM32L4R9ZIJx, STM32L4R9ZGTx, STM32L4R9ZITx, STM32L4R9ZGYx, STM32L4R9ZIYx, STM32L4S9AIIx, STM32L4S9VITx, STM32L4S9ZIJx, STM32L4S9ZITx, STM32L4S9ZIYx
This release provides the following improvements:
*Update of ARM toolchain to 2017-q2 release (6.3) excepting GDB
*Migration of build tools to MSYS2 for windows OS
*The support of STLinkServer, an application allowing:
to share the debug interface of a single ST-LINK board among several host applications. Typically a debugging tool and a monitoring tool. Of course, two debugging tools can't control simultaneously the same target, but both may have access to it, if choosing appropriate connection settings.
to have access to several boards with one tool to launch and control several debugs in several boards.
The host application must have the ability to connect to the ST-LINK server instead of connecting directly to the ST-LINK USB.
Installation:
ST-Link Server is delivered and installed by the SW4STM32 installer. There must be only one installation of ST-Link Server per machine, that is why the location of installation folder cannot be edited and depends on the operating system.
If the version 2.2.0 has been installed with the update site procedure, the ST-Link Server will not be installed. In that case, download the last SW4STM32 installer or download the ST-Link Server on the st.com website.
Manual installation:
Windows: Double click on the msi file will launch an installation wizard for the ST-Link Server.
Linux: The file is a rpm or deb package, use command line "sudo dpkg -i st-stlink-server-xxx.deb".
MacOS: Double click on the pkg file will launch an installation wizard for the ST-Link Server.
Usage:
Once activated, the total number of connected boards is indicated and a table listing these boards is displayed. A board must be selected before launching the debug session.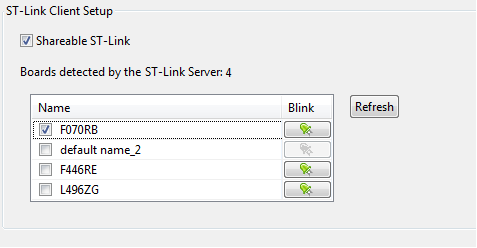 Limitation:
Boards with firmware's version lower than j28 cannot be selected to launch the debug using STLinkServer. In this case, the user must use the classical debug.
This release provides the following fixes:
Fix ARM Tools chain decompression issue.
Fix float formatting issue with newlib nano : raise an error when %f is used with scanf and printf without corresponding Linker option '-u _printf_float' or '-u _scanf_float'
WARNING :
Installers need at least 600Mo free space on the installation volume

The new CDT Debug Console, that offers a powerful GDB console, is not supported yet.
In some Linux environments the Welcome screen rendering could appear messy (empty page, missing icons). This is generally caused by an unresolved WebKit1 library required by SWT for GTK2. To restore this display issue it is advised to install the following package: $ sudo apt-get install libwebkitgtk-1.0-0
On Ubuntu, version 14.04 is now required to run System Workbench for STM32
For MAC OSX Users : Due to missing path to JRE, some users could not launch the installer. This issue is now fixed. For users who have installed the Oracle Java JDK, the old/new installers are still working.